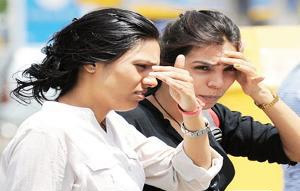 How to tackle high vitamin D deficiency
vcpost
A whopping 85% of Delhiites suffer from Vitamin D deficiency, say doctors. Experts tell us why, and how to tackle this problem.
Delhi people suffer from Vitamin D deficiency – sounds surprising doesn't it? The city is known for its harsh summers, with the sun shining for more than 12 hours a day. However, the city's doctors, wellness and fitness experts say that in all likelihood, close to 85% of Delhiites suffer from the deficiency. Experts say that people living in metro cities are severely deficient in Vitamin D, also known as the sunshine vitamin, due to their busy schedules, irregular working hours, and the 'apartment culture'. why are so many people in the city vitamin d deficient? According to Dr Sushil Sharma, chairman of the Arthritis Foundation of India, apart from genetic issues, the high melanin content in Indians, which does not allow Vitamin D to be easily synthesized in the body, is the primary reason behind why people suffer from the ailment. Apart from this, their extremely globalized lifestyles have taken a toll on people's health.
"A person who reaches office at 8am and leaves after sunset can never get the optimum amount of exposure to the sun. People get out of their homes, board air-conditioned cars or the Metro, and reach their destination. They are not out in the sun for even five minutes. The kind of lifestyles Delhiites have is the major issue here. Almost 80 to 85% of my patients who are Vitamin D deficient belong to the 25-40 age group," says Dr Sharma. "The reasons behind almost 90% of Delhi's population being Vitamin D deficient are globalization and changing lifestyles. I always suggest that parents send their children for outdoor activities and get them to spend at least 30 minutes in the sun. However, most people refuse to leave the comfort of their air-conditioned rooms. So this problem is quite natural. At a young age, most people do not realise the harm they are causing their bodies – they only realise that later on," says Dr Tapan Jyoti, a bone and skin specialist. The increasing number of people opting to live in flats in the NCR region has also been cited as a major factor leading to Vitamin D deficiency.
"If you go through the narrow lanes of Old Delhi, or the congested areas of East Delhi, you won't find a single house that receives enough sunshine," adds Dr Sharma. While he says that 85% of his patients are Vitamin D deficient, Dr Amit Sharma, former head of department of orthopaedics, Dr Hedgewar Hospital, says, "I am shocked when I find a Delhi resident who is not Vitamin D deficient. I consider them exceptional patients. Vitamin D ka level kisi patient mein theek nikle to mujhe ascharya hota hai." too much sunscreen might be a bad thing too Referring to scientific studies done on the topic, experts also say that a little exposure to the sun – about an hour at the most – without sunscreen lotions might not be harmful enough to 'give you cancer', despite popular belief to the contrary. "Yeh jo ladkiyan roz bhaari bhaari sunscreen ke layers lagati hai, this is one of the reasons why Vitamin D does not get synthesized. This is true for many young girls, who, despite being exposed to the sun, suffer from the deficiency." says Dr Sharma. "Extensive exposure, jaise ki people who sunbathe for hours, carries the risk of skin cancer. But exposure to the sun for an hour or less has few risks," he adds. "SPF 40/50 ke bina aajkal ladkiyan bahaar nikalti nahi. Sunscreen ki jo zarurat Australia mein hai, waisi zarurat India mein nahi hai. Sunscreen can prevent one or two shades of tanning, nothing else. People also have to be wise with sunscreen products," says Dr Amit.
When it comes to homemakers, experts say that women who stay at home often do not step out for even an hour during the day. They only go out in the evenings, when the sun has set, to avoid the intense heat of the Delhi summers. too busy or too lazy to get some sun: Delhiites Most city people are completely oblivious to this problem. The hustle and bustle of their daily lives does not give them the time to think about, or deal with, the matter. "I don't even know whether I'm deficient or not. Who cares? My busy schedule doesn't allow me to think about all this even if I know that I am deficient. I can't sit in the sun and waste 30 minutes of my time, I have to earn a living," says Arijit Bhattacharya, a young marketing professional from Kalkaji. While some Delhiites were aware, some remained absolutely clueless. "I have many deficiencies apart from just Vitamin D. But Delhi's heat is such that I can't imagine sitting in the sun for half an hour. I drink milk every day. Isn't that enough?" asks Preeti Mishra, a student of JNU. "Doodh se mujhe ulti aati hai. Aur sun tan se darr nahi hai. Tans are sexy! But my laziness does prevent me from going out into the sun," confesses Priya Pathak, a resident of Sarita Vihar.
Young professionals and students say that they would like to see awareness drives in the city about this problem. "I often have pain in my bones, I am sure I am Vitamin D deficient. But I run a beauty salon from my house – I don't get a chance to step out before 8pm as I don't have any people working with me," says 24-year-old Shima, a resident of GK. "I am a BPO worker. My lifestyle is horrible. I only see the sun on my off day and that's the day I sleep till evening. I know that I have to start taking supplements before I turn 30," says Katylene, a 20-year-old call centre employee from Gautam Nagar. Only a small percentage of the city's population is aware of the hazards of being Vitamin D deficient. Tulsi, a yoga trainer from Mayur Vihar, says, "I had read about it a year ago and I had taken my mother to the doctor as well. We are very conscious about it. I walk out in the sun every day for two hours and my mom also makes sure that she gets some sunlight every day. She sits out in the balcony every day for some time."
Read More: How to tackle high vitamin D deficiency
Source: Timesofindia.indiatimes.com