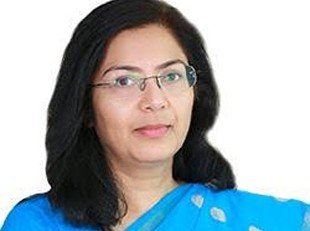 Overcoming Vitamin D deficiency in women
vdcp
Dr U Ayyagari
MBBS, DMRD, MRCP(UK), HFMC (UK), CCT(UK) (Diabetes, Endocrinology and General Medicine). Senior Consultant Diabetes, Endocrinology and Metabolic Medicine, Apollo Sugar Clinics OMR, Consultant in Antenatal Diabetes and Endocrinology, Apollo Speciality Hospitals OMR and Apollo Cradle, Karapakkam, Chennai.
=================================================================================================================================
Vitamin D deficiency is turning out to be common in India like any other disease. Dr Usha Ayyagari, Consultant in Antenatal Diabetes and Endocrinology, Apollo Speciality Hospitals at OMR, Chennai in an interview with the THP team, talks about the role of Vitamin D in women's health, dosage for Vitamin D, deficiencies, causes and a diet that would make any women, rich in Vitamin D.
Edited Excerpts:
What are the vitamin deficiencies you see in Indian diabetes patients?
We commonly see B12 and Vitamin D deficiencies in our urban Indian patients. In vegetarians, especially, Iron deficiency is also fairly common. Most Indian women do not take enough protein on a regular basis, even if they are eating meat occasionally.
What is the role of vitamin D in women diabetes treatment?
Low vitamin levels are frequently found in patients who have diabetes, heart disease and obesity. Some data suggests that having low vitamin D levels may increase the risk of these problems later in life. But, there is no definitive evidence that treating vitamin D deficiency can prevent these conditions from occurring. For people who already have diagnosed diabetes, it is uncertain whether vitamin D supplementation will improve control or prognosis – more research is needed in this area.
What is the vitamin D dosage you recommend to women diabetes patients?
Most women need 600 IU of vitamin D per day, but diabetic women aged above fifty and for pregnant as well as lactating mothers, the dosage can be increased to 800 IU.
Suggest ideal vitamin rich Diets for women diabetes patients.
The best source of vitamin D is sunlight. Other vitamin D rich foods include oily fish (e.g. salmon, sardines and mackerel), eggs, meat, fortified fat spreads, fortified breakfast cereals, and some powdered milk products. For other vitamins and minerals, a diet rich in vegetables, greens, fresh fruit and salads will provide most of the requirements for a healthy adult woman.
For more details on Vitamin D, log in to: www.vitamindguru.com